Savannah Ghost Tours at Johnson Square
One of the most discussed residents in Bonaventure Cemetery (and on Savannah Ghost Tours) is little Gracie Watson. Her story has endured over the years as a representative of Savannah in both death and life. Gracie was born in 1833 as the only child of W.J. and Frances Watson of Boston Massachusetts. When the Watsons moved to Savannah, they took over management of the Pulaski Hotel that sat on Johnson Square. This would be the place little Gracie Watson grew up and the only home she would ever know.
Fitting in at Savannah
Savannah was a hard city to fit into, especially if you were from anywhere above the Mason Dixon line. Gracie's mother tried to fit into the elite class and used her husband's position as the hotel manager to meet those needs. Soon, the Pulaski Hotel was the center of Savannah high-class, and little Gracie became the center of attention. The guest were usually greeted by the wide-eyed little hostess at the front door. Little Gracie was always present at the parties. She would entertain the guest and locals who frequented the hotel.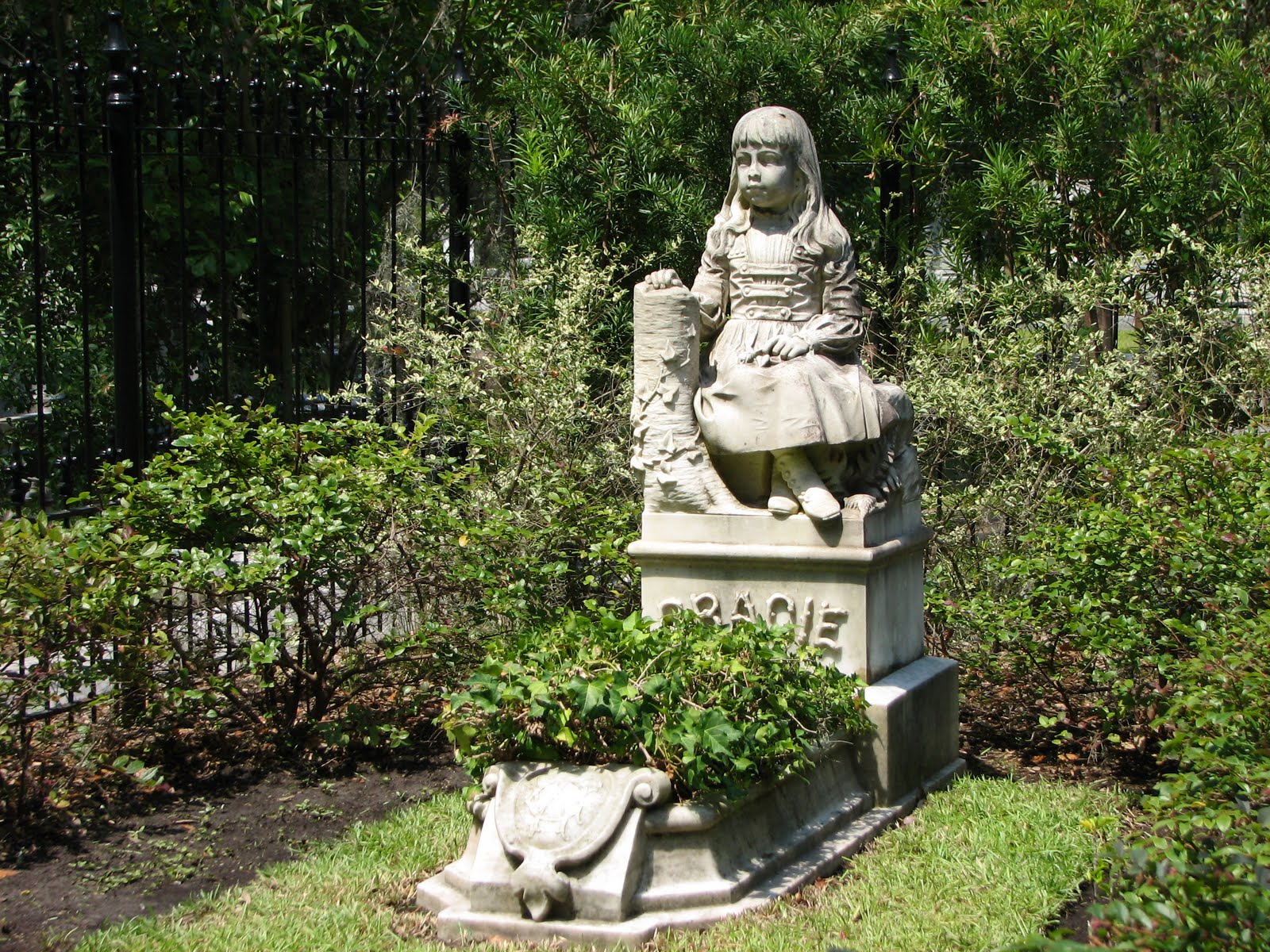 The life of the party is cut short
As we learn on our Savannah Ghost Tours, Gracie's life was short lived. Just two days before Easter in 1889, at the age of six, she died of pneumonia. She was buried in a plot in Bonaventure Cemetery. This led to her father falling into a deep depression over the loss of his only child. He left the Pulaski Hotel for a stint at the Desoto on Madison Square. He then moved back to Boston with his wife, leaving little Gracie alone in Bonaventure. Before they left, however, they commissioned the services of sculptor John Walz. He took a block of Georgia marble and, from just a photograph, carved a life size statue of little Gracie Watson.
Sightings on Savannah Ghost Tours
Visitors of Johnson Square and our Savannah Ghost Walks say that they sometimes see a little girl, so full of energy, playing around the bronze sundial. The Pulaski Hotel no longer exist. In it's place sits a Regions Bank. Customers and employees alike claim to hear the laughter of a little girl echoing through the building. In Bonaventure itself, Gracie can be seen playing amongst the graves of other children. Visitors of her grave leave special gifts such as coins for her.
Little Gracie Watson, always the life of the party, even in death.